A lead product designer (UX/UI) for an award-winning interactive mobile app.
To launch the 2014 Mazda3, JWT partnered with Cineplex TimePlay to create a gaming first: a dual screen in-cinema experience that leverages the mobile accelerometer. This social driving game turns a phone into a wheel and every seat in the theatre into the driver's seat for an immersive test drive experience. Vibration feedback on their mobile device cued users to correct their steering. Collaboratively, the audience's performance dictated their race position on the big screen.
What I did: end-to-end experience design, user flows, wireframes, UI design of the gaming experience on the mobile device and theatre screen.
Awards: Shopper Innovation Awards
Silver (x2) – 2014 Atomic Awards
Bronze 2014 Marketing Awards
2015 Webby Awards People's Choice finalist
Cannes Shortlist – Media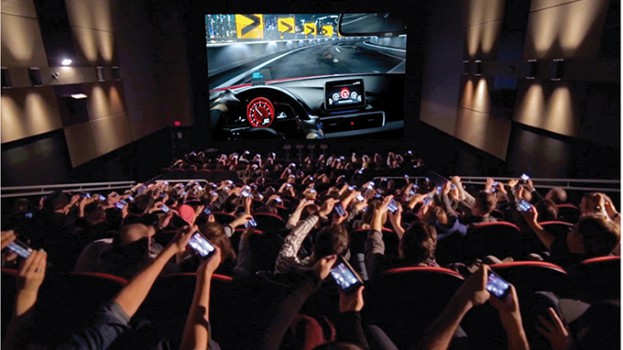 Players had 3 sec. to learn how to play this game and were soon racing cars on a big theatre screen. So that would appear to them. But technically players had to match the position of their phone with a marker on the screen taking perfect turns that matched animation on the screen. A winner was the one that took the perfect turns the fastest. The UI resembling a steering will add to the excitement of driving make it more real.